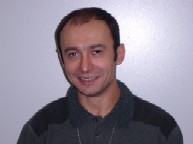 Samir Chennoukh is working on multimedia solutions for mobile terminal 
applications. He obtained his BS on '89 in EE degree from Algiers Univ. of 
Technology and an MS degree on signal processing and automatics on '90 from 
Supelec/Orsay univ. in France and his doctorate degree from ENST of Paris on 
signal and Image processing on '95. He has over 10 years research 
experience on different fields of speech processing including speech 
production, analysis, recognition and speech coding from different positions at 
ENST, Rutgers state univ. of New-Jersey, and Philips research labs. He joined 
Skyworks since January 2002 to put hands on solutions for embedded applications 
development and integration on ARM chips on mobile terminals.